Inside Out Studio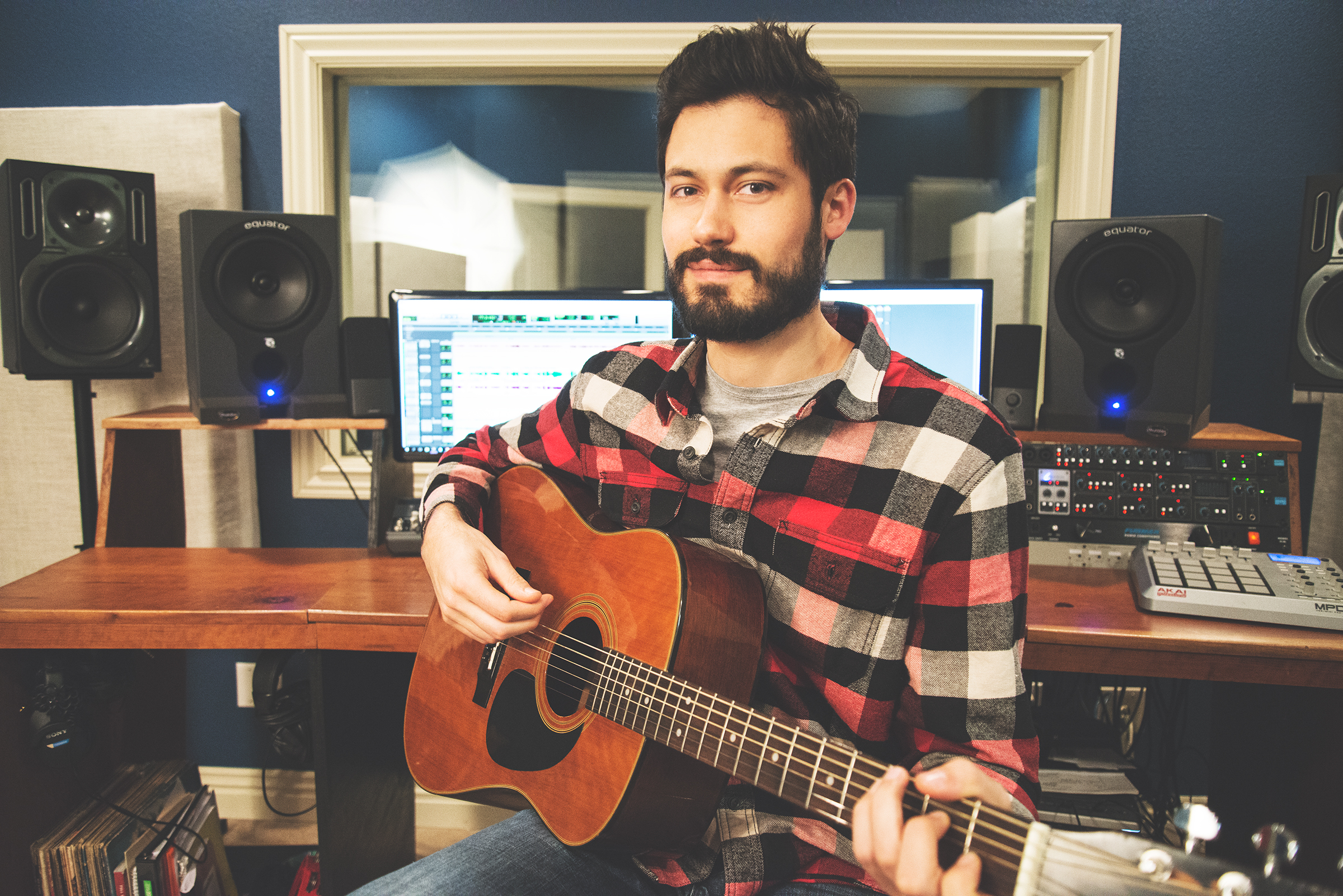 Today our business spotlight is on Jacob Paul Phaneuf, owner of Inside Out Studios in Farmington, Arkansas. Jacob, Thank you for taking the time to interview with us!
Please tell us more about your personal journey that prepared you for launching your business
I took piano lessons when I was about 6, and didn't care for it much, and thought at the time that it wasn't something I was passionate about, so I quit pretty soon after.  When I was 12 years old I noticed some of the older kids playing the guitar. I saw how much fun it was to not only listen to, but also what enjoyment and comradery came from it. My older brother got a guitar, so I'd sneak into his room, and play it when he was gone. I couldn't get enough and really haven't put the guitar down since.
I graduated with a degree in Psychology from the University of Arkansas, and worked in mental health with kids for 5 years and started teaching music on the side because it was hard to make a living and support my family.  I was really enjoying teaching and seeing my influence really making a big difference in these kids lives. At that same time, having been out of college for a couple years, I actually for the first time was reading books for my own enjoyment rather than being forced to in school. I really got into business, and the idea of investing, because that really interested me that there was actually ways to make a living without having a boss.  I read classic books like anything Robert Kyosoki, and books like Good To Great, 7 Habits, and The 4 Hour Work Week, and many more. It was all new to me and definitely not things you learn in school.. at least, not in Psychology. I racked my brain about what kind of business I could have but kept coming back to the idea of teaching music.
I'd been so passionate about music since i started playing at age 12, literally playing hours every day all this time, but I was still not confident and felt inadequate to teach,  much less open up shop as some sort of "expert."  I was only 25 so I decided if venturing out on my own didn't work out, I could always recover. It was just the right time in my life to do something crazy. Young enough to be a little naive and ignorant, old enough to dream and actually go through with it. I got to design and open a small 1,000 square foot, 3 room studio. The day it was finished and ready to move in was also my last day at work. I straight up quit my job, with a wife and young baby and a mortgage, and about 12 music students. Everyone thought I was a little crazy, but looking back, that's the way it looks to me too. The next 5 years or so were really really… really hard. But I committed my life to the studio and the dream of working for myself, and making a positive life influence on my students. Truly, I believe music is one of the greatest God given gifts we have on earth. You can't hold it, you can't taste it, it has no value in itself, but what it can do for people , the effects of that are still to be measured.
Inside Out Studio now has a staff of 14 people, and over 200 very happy students. We've expanded to a 3,000 square foot space where we can stretch out a bit, and focus also on other student opportunities like recording, performances, kid bands, and more.
We see your business mentioned often on social media and in the press. How have you garnered this visibility?
Most of our PR has come from community involvement our students have been involved with, like performing at community events over the years. Also the paper did a nice article when we moved into our new space. From my observation it's been a pretty great thing for Farmington, and the surrounding community for us to be in the area.
A lot of our PR has also come from albums that we've released. Most of our albums that have come out have received some coverage, usually by the paper, if not some local magazine. It's been also real thrill to be a part of that.
Tell me about your goals and vision for IOS.
So the immediate goal I had was to provide an alternative to traditional curriculum only based music teaching, and provide an environment that encouraged creativity and individual expression, while also laying a strong foundation in applicable music theory. I always tell my students, I will never waste their time teaching them things they don't need to know, but I do spend a lot of time sharing all the cool things it's taken me my life to understand, literally hours a day for years. It's a thrill. That passion has evolved the studio over the years to provide students great opportunities, that to my knowledge, don't exist anywhere else. For example right now we've picked 5 current pop songs and will be doing our own student recorded versions of those songs, as an optional opportunity for those interested in being a part of something like this. We will re-record all the parts, from drums to guitars to vocal parts. There will be about 20 students involved on each song, with the students being the producers and studio musicians. Then they get to share the song with family and friends.
We also have other students who are aspiring singer/songwriters. Many of them record and are offered performing opportunities. That's been really cool too. IOS also does other music producing for artists in the area looking for a production experience that takes the time to capture their vision and patient enough to make something special and unique. The sky is really the limit for IOS, because there is no written business plan we are following. It changes and transforms over time to meet the needs of our growing number of students, artists, and clients.
Why did you go into this particular business? 
 I really don't know how I've gotten where I am. I don't see myself doing anything else. Like I was supposed to do this all along. I can't say I'll do this forever, but I'm certainly where I'm supposed to be right now. Having said that, there was a long long season where I knew I was doing what I was supposed to, but my wife and I were really struggling just to pay the bills and mortgage and put food on the table. That felt like a really long time, years really. Most people don't realize how bad it was for quite a while. My wife has to be the most amazing person that I know.  People would give me the statistics of how most businesses don't last more than a couple years before they fail. Well, I guess I just don't know when to quit maybe. But by the grace of God, we are in a much better place.
Can you share any challenges or setbacks you've experienced and how you got through it? 
The first and biggest challenge has been growing the business from nothing, having no real business guideline to follow, and afford to feed my family and pay the bills for the first 4-5 years or so. Seeing that I quit my full time job to pursue the studio, with only a handful of students, it was pretty difficult- one could say stupid. I think I needed to shock myself into making it and felt success. I couldn't halfway do it. I needed to be all in, or not at all. I got creative to say the least. I offered jingle and video production for businesses, I spent money on advertising, I put all my money (with no loans) back into the business. I hired interns to do marketing (which really proved to be a waste of time). At some point I had an epiphany and that was I should focus my energy inward. At some point when i was so outwardly focused on getting new business and stretching myself thin, I was neglecting what I had.
My strategy for the last year or so has been to create an environment where people on the outside really see they're missing out by not being a part of IOS. It's where we should have been all along. But it was hard not to freak out a bit when I didn't know how I was going to feed my family the next day. It's been so much more rewarding also, to be focused inward and be proud of what we are and who we are, like a family. And we've really continued to grow, even more so than when I was pulling my hair out trying to figure out how to "get new business." My motivation has become as lot more authentic again.
Can you share success stories that you've experienced? And how do you measure success?
 We have mini success stories everyday. We celebrate with our students accomplishments. We've been so proud of their courage. Just recently I've been so inspired by one of my guitar students who is determined to play the full song, "Walk This Way," by Aerosmith, including all the solos. You need to listen again to the insanity of the solos and groove in that song. It's nuts, especially for a 13 year old. It's exceptionally difficult for me, and he's keeping up and practices everyday. These are the things we live for at IOS. I know that doesn't sound like a "business success story," but these are the types of things we get to experience everyday, and nourish, and encourage, and cheer on.
We've also got to produce some albums, often debut albums by singer songwriters that have really been received well. Every project I can think of has lead to media attention and interviews in one form or another, whether newspaper or radio interviews. That's been fun. On a personal level, it's really rewarding to spend months and months, sometimes a year of your life working with an artist to make something special, spending days and nights in your little cave hiding away making the music come to life, then all of a sudden, it's out for everyone to hear and it's like it's not yours anymore, it's for everyone. Then you get to hear people's feedback and perspectives on it, how it moved people one way or another musically and lyrically.
What would you share with someone who has hesitated to follow their life's passion?
From a bigger perspective, I want those that come in contact with the studio to realize you really can do anything you want with your life, and as long as you're pursuing something that you believe in with your whole heart and attitude, you can make something happen. There's a reason we have big ideas and dreams in our head and we can't let fear or apathy to rule our life. Someone recently told me, if you don't do those things you know you should do or own those ideas that come to you as yours, they're going to go on to someone else that will. I want to give my students an experience that will really have changed and molded them for the better, making them more creative and prepared for life. You might say, that's silly, you're just teaching them music lessons.  I know for a fact it makes a difference, because I know what music has done for me. There's so many lessons that are taught that are subconscious like self accomplishment and confidence, persistence and commitment, coping skills and stress relief, and on and on.
What's your best piece of entrepreneurial/business advice for our audience?
Stick with what you know you're supposed to do. Opportunity doesn't wait for anyone.
If you have an idea that you know is right for you, then make up your mind and go for it. There will be so many doubters and skeptics that won't hesitate to give you their advice, and most of those are people who have never tried anything outside the box anyway. Everyone will have an opinion. Everyone.  And honestly, you should take the time to listen and consider all. Just take into consideration  who and where it's coming from. Find other entrepreneurs and like minded people to spend your time with. People that challenge you to be a better version of yourself. We are capable of so much. We all have something we're good at and I don't think we were made to waste that.  Surround yourself with people that are already ahead of you.
What words of inspiration can you share to encourage us today? 
 It's never to late to enjoy a life skill like music. In my opinion it's one of the most positive things people can do, because it carries out into adulthood, sports and other things usually mostly stop in your 20's. Most of our students are kids, but we have a lot of adults too who are really, really enjoying finally getting into music.
How can our readers get in touch with you? 
 If you want to find more about our student opportunities, music lessons, recording and producing, and even jingle production for your business, you can visit our website at www.insideoutNWA.com, or Facebook.com/insideoutNWA.