Interview with Betsy Brumley-Bernier & Kevin Bernier, Co-Founders of the Power of Music Festival and the I'll Fly Away Foundation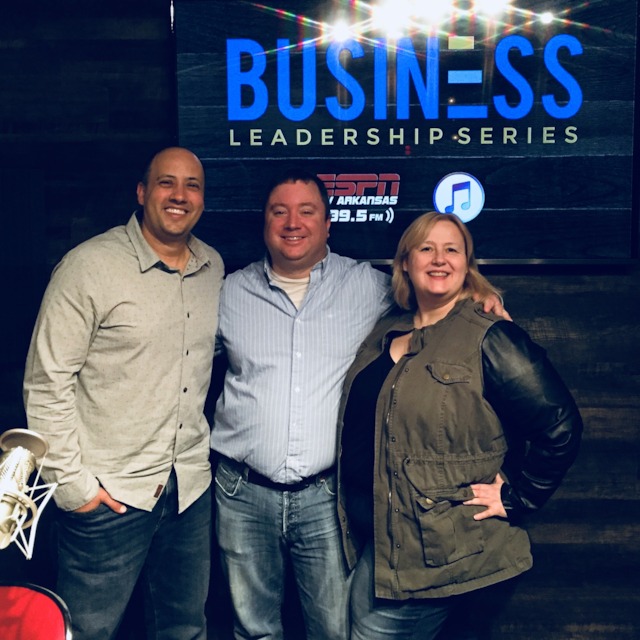 In this episode Derek interviews Betsy Brumley-Bernier and Kevin Bernier, Co-Founders of The Power of Music Festival and the I'll Fly Away Foundation. Betsy shares stories of her grandfather, Albert E Brumley, who is noted as one of the most successful song writers in history. Albert wrote iconic songs such as "I'll Fly Away."
Drawing on outstanding local and national performers from multiple genres, The Power of Music Festival revealed its full performance schedule during an announcement today at the Visit Bentonville office.
The second annual event will be held in downtown Bentonville on April 26-29. Tickets are available now. The festival is presented by the I'll Fly Away Foundation, based in Bentonville. Proceeds will benefit the organization's You Can Fly Songwriting Program, which allows area students of varying developmental levels to use songwriting to connect to their own creativity.
As part of this program, established songwriters come into schools to personally craft songs with students. The uniqueness of this program is that the children write the songs about what they are learning, while the songwriter guides them through the process. The program has already seen marked success in elementary schools in McDonald Country, Missouri, and will expand into Northwestern Arkansas in 2018.
The press conference featured live music from The Accidentals, a fast-rising Indie-Americana band from Traverse City, Michigan, who will be performing at the festival this spring. The lineup will also include Nashville vocal group Farewell Angelina, Latin rock 'n' roll band Making Movies, folk artist Steve Poltz ("You Were Meant for Me" by Jewel), songwriter Jerry Salley ("Outlaw State of Mind" by Chris Stapleton), inspiring Texas rapper Saul Paul, Americana songwriter and Arkansas native David Starr, songwriter Keith Sykes ("Volcano" by Jimmy Buffett; "You Got Gold" by John Prine), and Emmy-winning composer Jonathan Wolff (Seinfeld, Will & Grace, Married with Children).
Local and regional songwriters include Melody Pond, Michael Dause, Joe Mack, Kasey Rausch, Josh Noren, Sav Buist, Jim Paul Blair, Kevin Kiehn, Carter Sampson, Harley Hamm, Katie Lawson, Robb McCormick, Willi Carlisle, Tony Redman, and Cameron Johnson.
Steve Dorff, a 2018 inductee into the Songwriters Hall of Fame, will also perform at the festival. His credits include Anne Murray's "I Just Fall in Love Again," Kenny Rogers' "Through the Years" and George Strait's "I Cross My Heart," among many others. In addition, Dorff will be signing copies of his memoir, I Wrote That One Too…A Life in Songwriting from Willie to Whitney.
Nashville Songwriters Hall of Fame members who will be performing include: Roger Cook ("Long Cool Woman in a Black Dress" by The Hollies; "I Just Want to Dance With You" by George Strait), Randy Goodrum ("You Needed Me" by Anne Murray; "Foolish Heart" by Steve Perry), Richard Leigh ("Don't It Make My Brown Eyes Blue" by Crystal Gayle; "The Greatest Man I Never Knew" by Reba McEntire); and Dennis Morgan ("I Knew You Were Waiting" by Aretha Franklin & George Michael; "Smoky Mountain Rain" by Ronnie Milsap).
The festival will feature panels about key topics in the music industry, such as performing rights organizations, publicity, production, publishing, and placement in film and television. Fifty percent of this year's roster of songwriters and panelists are women.
The I'll Fly Away Foundation is named for the iconic gospel song, "I'll Fly Away," which was written by Albert E. Brumley. The Power of Music Festival strives to make all genres and aspects of music accessible to Bentonville, Arkansas, and surrounding communities.
Coca-Cola is the 2018 presenting sponsor of the Power of Music Festival. Louis Martin, President of Coca-Cola's Walmart, Inc., Team, says, "Coca-Cola is proud to support the songwriters' festival and the foundation's work to bring songwriting and music education to our local schools. We are grateful for the amazing talent this festival brings to Northwest Arkansas and the positive impact it makes on our local community."
Additional sponsors include Haxton Road Studios, Paris Presents Incorporated, NWArkansasTravelGuide.com, iheart radio, Cox media, Meteor Guitar Gallery, TeleComp, Bike Rack Brewing and 225 Event Center.