Interview with Tom Milana JR (Entrepreneur and Founder of Man Cave) and Former NFL Player Erik Coleman (Ambassador for Man Cave)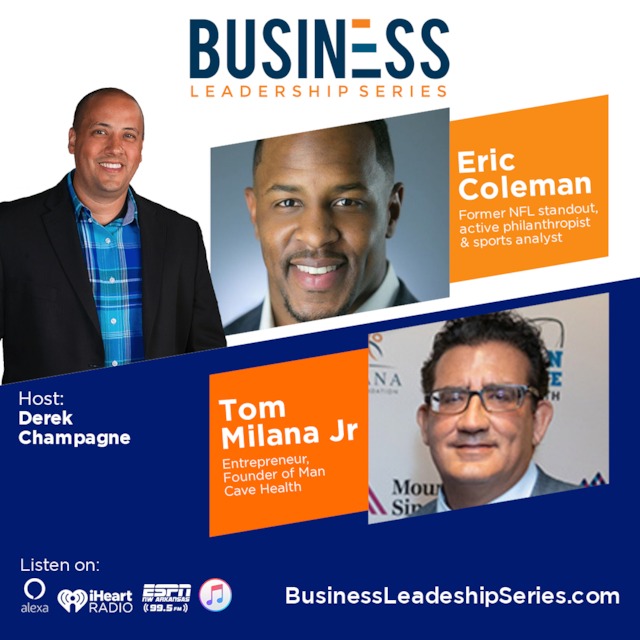 June is Men's Health Awareness Month and we are spotlighting a revolutionary new concept: Man Cave Health: Man Cave Health. Tom Milana JR (entrepreneur and founder of Man Cave) and Former NFL Player Erik Coleman (ambassador for Man Cave) join us to talk about the staggering statistics for prostate cancer, early detection, and their unique new concept.
The Man Cave is a unique patient care model that's needed now more than ever. Combining educational resources, emotional support and the latest in medical technology, Man Cave Health is creating sports- themed facilities where men can feel at ease, complete with a team of friends, medical professionals, educators and advocates ready to help them take control of their healthcare journey. Man Cave Health is making it more comfortable for men to go to the doctor by replacing the traditional, clinical setting with a more masculine décor which includes memorabilia from local sports teams, flat-screened televisions, leather seating and coffee bars. Mount Sinai in New York unveiled the first Man Cave at its Midtown Manhattan urology practice. Five more Man Caves are in the works and will eventually roll out across the country https://mancavehealth.org
Tom Milana Jr. is a creative entrepreneur with a 25+ year track record of building successful companies based on his keen insight into market opportunities and unrelenting drive for success. Most recently, personal experience has lead Tom on a mission to become a force for change in the field of men's health. His latest endeavor, and the one he is most passionate about, is Man Cave Health, whose mission is to educate men about prostate cancer. Driven by the notion that men take better care of their cars than their bodies, Man Cave Health is a destination for men seeking information, screening and then treatment for prostate cancer, if that becomes necessary. The purpose behind the Man Cave is to reduce anxiety by providing men with a familiar and comfortable environment, as opposed to the more traditional, clinical hospital setting. The first Man Cave is currently serving patients at The Department of Urology at Mount Sinai Health System and is poised to become New York's premier resource for men with prostate health concerns. Tom's goal is to put a Man Cave in every major US city, so that all men have access to the support they need when faced with sensitive health concerns that can be overwhelming without appropriate support. Erik Coleman is a former NFL standout, active philanthropist and sought-after sports analyst who uses his on-field experience, extensive knowledge of sports and robust personality to bring new and exciting insight to fans young and old. After a stellar collegiate career as the captain of the Washington State football team, Coleman was drafted in the fifth round by the New York Jets in 2004. Coleman played nine consecutive seasons in the NFL with the New York Jets, Atlanta Falcons and the Detroit Lions. Recognized for his unwavering work ethic and passion for the game, Coleman became the first New York Jets player ever to earn the NFL Rookie Defensive Player of the Month Award since the honor's inception in 1996 and finished his rookie season as the NFL's highest grossing member of its performance-pay program, the league's plan for rewarding low-salary players who outperform their contracts. During his NFL tenure, Coleman's highlights include 653 combined career tackles and assists, 11 interceptions, 4 forced fumbles and 37 passes defended and he also served as the player-elected NFL Players Association Team Representative five out of his nine years in the league.
Since his retirement in 2013, Coleman has become a TV analyst for SNY's "Jets Post Game Live!", "Jets Extra Point", "Jets Nation" and SNY's Jets Draft show. He also frequently appears as a sports commentator on numerous sports shows and network programs such as Hannity on Fox, Closing Bell with Liz Claman on Fox Business, ABC, PIX 11, CBS, ESPN Radio and WFAN, to name a few. In addition to his on-camera career, Coleman hit the airwaves as an analyst for the Stony Brook University football radio broadcast team in 2015 and most recently, Sirius XM. Coleman is currently pursuing his passion for health and wellness as a Practice Manager at CORE Medical New York, an anti-aging and hormone treatment medical center. Coleman is an active philanthropist who supports a number of causes close to his heart which includes, sickle cell anemia, pediatric cancer and traumatic brain injury and is a mentor for My Brother's Keeper Mentorship Program. Moreover, Coleman is the proud recipient of Manhattan Youth Baseball Excellence in Sports & Philanthropy Award, NY Sports Legend Humanitarian Award, World of Children Award and is a Celebrity Ambassador for The THRIVE Network. When Coleman is not working or giving back to the community, he enjoys spending time with his wife Sabrina and their three beautiful children.
Recently, Coleman joined the NFL Alumni staff as the Director of Chapter Relations, where he maintains and builds relationships with Chapter Officers, promotes communication strategies and best practices for fundraising efforts. Likewise, setting up educational driven presentations for chapter president seminars, orchestrating roundtable discussions and developing memorabilia and silent/ live auction programs. Most importantly, his focus is to serve, assist, and inform players in their post-NFL lives to keep them and their families healthy, productive and connected, while raising funds for youth charities.